Customer Reviews
10/09/2021
Jane E.

United States
Another winner, Richard !
Hi again. Still a huge fan of your products. Just tried the mascara. Loved the way you can build the layers to make lashes as dramatic or natural, depending on the look I want. Big bonus- lashes feel soft and flexible unlike other mascaras I've used in the past. Thanks again for another great one!! Keep them coming!
10/08/2021
Kathy R.

United States
GREAT STUFF!
layers on/builds very nicely. just the right consistency from day one. might be my new go-to!
10/04/2021
Skye B.

United States
My favorite mascara!!
I've been using this mascara for about a year now. I've never had a mascara go on so nicely. Hardly ever clumps. Goes on smoothly and is easy to layer for a fuller lash look. In addition to being a quality product, the customer service is the best. There was a handwritten note on my first invoice and then a very personable email regarding another order with an issue. It's clear this company and it's founder care :)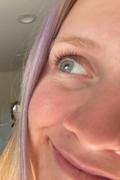 09/08/2021
Cheryl A.

United States
My very favorite mascara
I have tried many, many mascaras and this is by far the best I have tried. Goes on great, doesn't smudge or flake and stays on. So glad I am able to get it again.
07/14/2021
Kim B.

United States
Love my lashes!
I enjoy this fun company, building up people to feel good about themselves. And I love supporting a small business! My fabulous makeup artist friend Anthony Batinhe raved about it so I too can rave!
08/26/2021
Hi BEAUTIFUL YOU
Hi Beautiful Kim! I will thank the "Amazing Anthony" for introducing YOU to BE YOU MASCARA! He is a BIG FAN and a ROCKSTAR and I love what you said in review. I do try to keep it REAL and FUN vs. many traditional cosmetic companies that are NOT! Trust me, I have worked for many for them before I launched per-fekt and now @hibeautifulyou. Beauty should be FUN and encourage clients to BE YOU and not that photoshopped gal on the cover....right?!!!! Thanks again Kim! XO R
03/02/2021
Lynne

United States
Great mascara
This was my first time using it and I do love it! Makes my skimpy lashes look thicker and longer. I like the fine brush to get every lash.
02/09/2021
Elizabeth V.

United States
Best mascara I've ever used.
This is the third or fourth time I've ordered this mascara. I love how it goes on and builds your lashes gradually so you can go as light or as bold as you want. It's not flaky or clumpy. It stays put, but also comes off easily.
01/22/2021
Kimberly S.

United States
Great mascara
I love how this mascara goes on and separates and lengthens my lashes. I really like how it's environmentally friendly. I am hoping you are going to come back with the skin perfection gel. My face misses that.
01/04/2021
Amy S.

United States
Best mascara ever!
This mascara does it all—thickens, lengthens, doesn't clump or flake, applies easily, looks beautiful! My daughter is now hooked on it as well.
01/01/2021
Dianne

United States
❤️❤️❤️
Love this product! My lashes have never been so healthy. ❤️